09-05-2020, 07:10 PM
The Professor
Full-Fledged Member


Posts: 1,053
Joined: Jan 2015
Reputation: 0
V
09-08-2020, 01:06 AM
Linda
Full-Fledged Member


Posts: 2,320
Joined: Sep 2013
Reputation: 0
RE: V
That is very cool, really gives that ascii art some life. Like the way the top pops in with the mouse over. Nice work.
---
LingoLinda

♥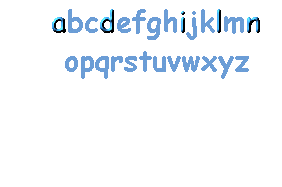 ♥
09-08-2020, 02:26 PM
tonebytone
Full-Fledged Member


Posts: 1,151
Joined: Sep 2013
Reputation: 0
RE: V
This is so funny. I'd get all mixed up, trying to create just the right marquees in the right places to make these funny faces. Great work. I admire your patience.

User(s) browsing this thread: 1 Guest(s)